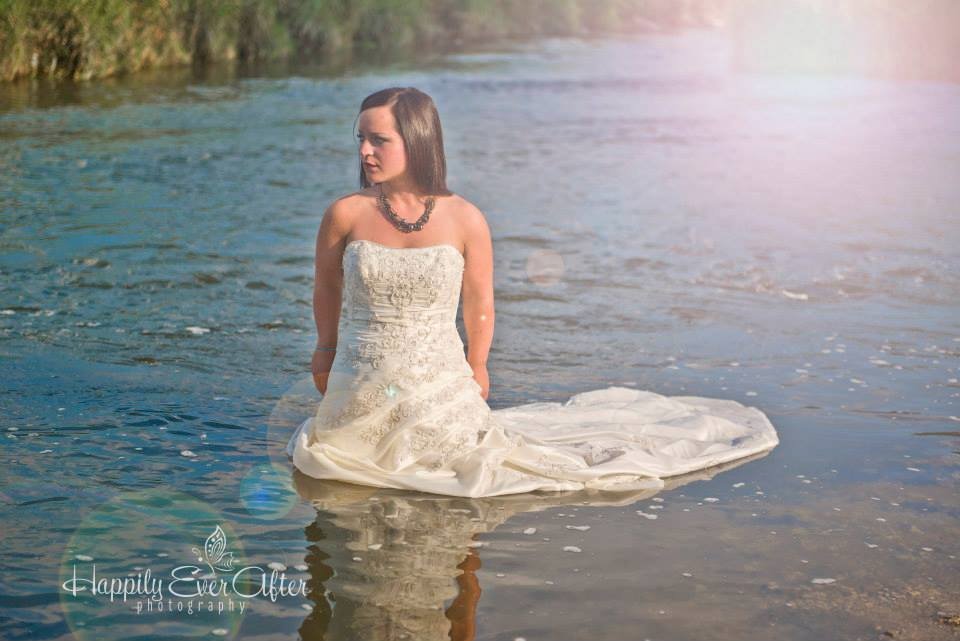 It's all about the dress.... Chances are you've heard that expression used before. And it IS all about the dress where weddings are concerned. You probably daydreamed about your dress as a little girl. You'll likely spend hours pouring over magazines and on the internet looking for the perfect one. Once you find it, you just know. So, it would be completely crazy to imagine wearing your wedding dress and jumping into Tampa Bay, right? Or laying down in a grassy field? Or sitting on train tracks? Not anymore!!
            There's a bridal photography trend that's being going on for years now. However, I can't believe how many people HAVEN'T heard of a "Trash The Dress" session. So, I thought I'd tell you about it. Considering that a wedding dress will (usually) never be worn again, brides are now making the most of their gowns. The "Trash The Dress" photo sessions are usually arranged a few weeks after the wedding. The session can include the groom as well or just feature the bride. Typically, the bride will have her hair and makeup done, or do it herself in a less formal style. The groom can wear a suit, or shirt and tie (no need to re-rent the tux). The sessions take place in all sorts of unique locations/situations such as at Clearwater Beach, The streets of Ybor City, or...any place you can imagine.
             Many couples use the session as an addition to their wedding photos when time won't allow pictures at all the locations they'd like. Others, get playful with their pics and incorporate their hobbies and personalities. For example, a bride and groom I worked with had photos taken at the softball field where they met playing weekly games. She was sliding around bases, getting dirt all over, and loving it! Another couple may choose to take photos on the beach at sunset, splashing in the water. A "Trash The Dress" session can be anything you want it to be!           
           As the name implies, quite often you do end up trashing your dress. However, you don't really have to totally ruin it. You can use locations and photo ideas that won't get your dress too dirty. If a client would rather not wear her original gown, she can pick one up at an affordable chain bridal store. (I've seen brides get great dresses for as low as $75!) Consider a "Trash The Dress Session" and you'll be glad you did. In the end, a bride and groom get to spend the day feeling like models, looking gorgeous, and getting fantastic photos that will last much longer than the gown. I am available to do a trsh the dress session anywhere in the Tampa area.